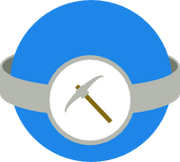 The Mine Belt is a band of Earths between the Ice Belt and the Corn Belt comprised of arid worlds with not enough trees to build a colony or a town.[1]
Since the Ice Belt ends at Earth West 36,000, it can be deduced that the Mine Belt starts around Earth West 36,001.[1] The Corn Belt starts at Earth West 100,000, so the Mine belt ends around Earth West 99,999.[1]
In The Long War, it is revealed that the Mine Belt is full of minerals scarce on Datum Earth like Gallium, Germanium and Cobalt.
References
Community content is available under
CC-BY-SA
unless otherwise noted.