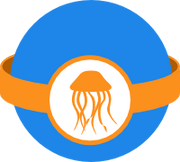 The Cnidarian Belt is a band of worlds where sea-life has dominated the land. Earth West 102,453,654 is one such world.[1]
It begins at aproxomately Earth West 100,000,000.[1]
Traveling around three million Earths West each day, the Armstrong II and Cernan reached Earth West 130,000,000 a week after leaving the Cnidarian Belt.[1] It can be deduced from this information that it ends at about Earth West 110,000,000.
References
Community content is available under
CC-BY-SA
unless otherwise noted.