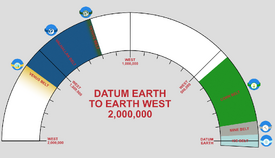 Not 100% sure what you mean, but I added the belt symbols onto the map. Put them around the outside because when I tried in the middle, some of them got in the way of the writing.
Made the map thicker, so that the centre space is smaller.
I think I'm done? I might make a new map as well - one for the ice belt. There are quite a few worlds that would go on it, and I've realised we know quite a lot about what areas are interglacial/ice aged (especially from The Long Cosmos), so I could put that on it too.
Also, when we make the page for West 1,520,875 (the world Joshua takes his sabbatical on in TLC), will it be considered valhallan, para-venusian or both? In chapter 10 it says that he was on the border between the two (so both?). According to the numbers given about the Valhallan belt, it's within its limits (so Valhallan?). And later in TLC, chapter 24, it's refered to as a "para-venus" (so para-venus??). What do you think?